Positive Mind | Formula against Stress and Tension | 60 Vegan capsules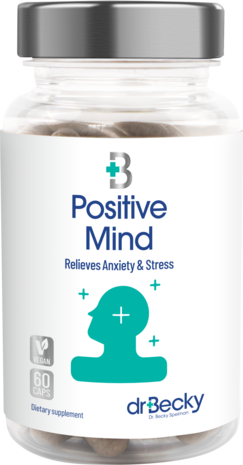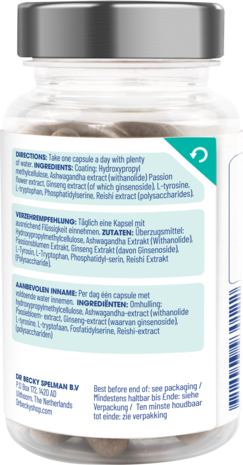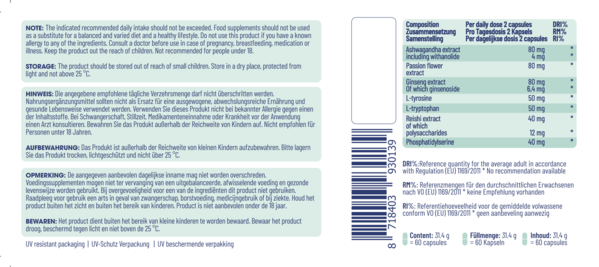 Product description
Formula against stress and tension
Everyone has days when they don't feel so good. For example, due to exams, the death of a family member or problems at work. When you suffer from stress every day, you soon start to notice its effect on your body and mind. Stress causes many physical and mental problems. Your body is constantly working to prepare you to fight or run away, when you're not actually doing either of these things. When this survival mode is activated it can lead to all kinds of physical symptoms, including pain. Everyone experiences stress at times and sometimes you just can't see the wood for the trees. Dr. Becky Positive Mind gives you support during periods of stress, helping you feel calmer and more positive.
When to use Dr. Becky Positive Mind
Use Dr. Becky Positive Mind when you're suffering from stress and stress-related symptoms. Symptoms like anxiety, tension, feeling agitated, tiredness and difficulty sleeping. You can use Dr. Becky Positive Mind at times when you're experiencing extra stress and tension, for example coming up to exams or during busy periods at work.
Advantages of Dr. Becky Positive Mind
Dr. Becky Positive Mind helps to reduce negative thoughts, anxiety and stress, due to its calming ingredients. This food supplement is non-habit forming and won't make you drowsy. It helps you to sleep better and gives your body support during times of stress.
Formula based on scientific evidence.
Remedy for stress, anxiety and agitation.
Beneficially affects the mood and emotions and restores mental balance.*
Gives mental support and creates inner calm.
Balanced formula containing 7 different ingredients.
Contains ashwagandha, a natural sedative that helps you to relax and combats stress.*
Positive effect on body and mind.
Anti-stress tips from Dr. Becky
Feeling overwhelmed by everything that's going on around you? Try to split problems and deadlines up into smaller, more manageable parts. Once you get an overview, you'll be able to let go of much of your stress. Talk to other people: having a sympathetic ear can help you understand how you're feeling and make you feel much better. Try to focus on the positive - the things that are going well and that you can do. By directing your attention to these aspects, you give yourself less opportunity to feel anxious and negative. Focus on the things that matter to you in life, too, like family, friends, your health and the good times. That way, negative thoughts will have less hold over you. Take enough time for yourself, so you're able to distance yourself from your day-to-day cares. Yoga, meditation, a spa day or a long walk in the countryside can really help to improve your mood.
Positive ingredients
Dr. Becky Positive Mind is made up of various calming ingredients. Together, they help to reduce your feelings of anxiety, stress and agitation.
Passion flower extract: passion flowers have a striking appearance, but they also contain substances that help you to relax and sleep better. These substances are called harmine and harmaline. They are associated with a calming effect on the body. Passion flower extract is non-habit forming, so it's safe to use it to help you during periods of stress.
Ginseng extract: ginseng has been used in herbal medicines for years to support a healthy mind. The nutrients in ginseng help to calm the central nervous system. It also supports the function of the adrenal glands. This is very important, as stress causes the adrenal glands to work overtime, producing all kinds of substances that control your 'fight or flight' response. When you're stressed, your body produces more blood glucose to provide your muscles with energy. Ginseng helps to restore balance in your blood glucose levels.
Ashwagandha extract: Ashwagandha is a herb that helps restore the balance in your mind and body at times of stress. It doesn't make you drowsy, so it's a safe anti-stress agent. Ashwagandha helps to calm stress and feelings of anxiety, improving your mental and physical health. It also helps you to focus better.
L-Tyrosine: Dr. Becky Positive Mind contains the non-essential amino acid L-Tyrosine, which is often used to combat stress and negative emotions. It helps when you're feeling tired and can help to reduce negative thoughts.
L-Tryptophan: the essential amino acid L-Tryptophan works together with serotonin in your brain. L-Tryptophan increases production of this happiness hormone. So it has a positive effect on stress and feelings of depression. This amino acid also helps you to sleep better.
Phosphatidylserine: this substance helps to streamline the cognitive processes in your brain. This means it improves your memory and it can also help to combat despondent thoughts.
Reishi extract: 30% polysaccharides: the reishi mushroom is added to Dr. Becky Positive Mind to help improve the body's immune system. If you're exposed to stress for too long, this has a negative effect on your immune system and your heart and blood vessels. Reishi extract, and the polysaccharides it contains, support your immune system and help keep your heart and blood vessels healthy.
Dr. Becky Positive Mind is a food supplement to support your health. If the stress symptoms persist, consult your GP. Always consult your GP if you are also taking medication. Store at room temperature. Read the instructions on the packaging and the information leaflet before use.
*Health claims, made on the basis of vegetable ingredients, are currently under consideration by the EFSA.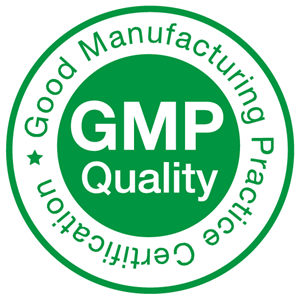 Composition
Composition 
 
per daily dose 1 cap
DRI (%)
 
 
 
Ashwagandha extract 
 
80,0
mg
 
*
including withanolide 
 
4,0
mg
 
*
Passion flower extract 
 
80,0
mg
 
*
Ginseng extract 
 
80,0
mg
 
*
Of which ginsenoside 
 
6,4
mg
 
*
L-tyrosine 
 
50,0
mg
 
*
L-tryptophan
 
50,0
mg
 
*
Reishi extract 
 
40,0
mg
 
*
of which polysaccharides 
12,0
mg
 
*
Phosphatidylserine 
 
40,0
mg
 
*
DRI (%)Reference quantity for the average adult in accordance with Regulation (EU) 1169/2011 * No recommendation available.
Product specifications
Article number

132512

SKU

PM_990

EAN

8718403930139

Contents

60 vegan caps

Ingredients

Coating: Hydroxypropyl methylcellulose, Ashwagandha extract (withanolide), Passion flower extract, Ginseng extract (of which ginsenoside), L-tyrosine, L-tryptophan, Phosphatidylserine, Reishi extract (polysaccharides).

Information

Food supplements must not replace a varied and balanced diet and a healthy lifestyle. Not suitable under 18 years. Read the instructions on the package before use.

Dosage Advice

Take one capsule a day with plenty of water.

Storage advice

The product should be stored out of reach of small children. Store in a dry place, protected from light and not above 25 °C.

Warning

Consult with an expert in case of illness, medication, pregnancy and breastfeeding before using supplements.

Suitable for vegans

Yes

Packaging

UV resistant packaging

Claims

Health claims, made on the basis of vegetable ingredients, are currently under consideration by the EFSA.
Show more
Show less
Reviews
Posted by: Jordan. M on 6 July 2022

An excellent balanced product. Effective for me. It started to work in three days as I started seeing a lift in my mood. I will purchase Positive mind again.

Posted by: P. R on 31 March 2022

Positive mind is voor mij een goede uitkomst om stress tegen te gaan. Voel me meer ontspannen en het boost mijn zelfvertrouwen.

Posted by: P. K on 10 January 2022

This relaxation formula makes me relaxed in the first week.

Posted by: M.K on 10 January 2022

Voor de eerste geprobeerd en echt super blij met Positive Mind. Lekker snel geleverd ook.

Posted by: Rick. N on 2 December 2021

It especially helps me in stressful times when my busy job demands a lot from me. I'm doing a lot better.

Posted by: Paula on 2 December 2021

Ik zit niet altijd goed in mijn vel, maar met Positive Mind verbeterd mijn gemoedstoestand aanmerkelijk. Met dank aan de voortreffelijke ingrediënten die me echt helpen.

Posted by: Jan Hoes on 27 November 2021

Dit middel helpt mij bij stress en spannende situaties, tevens ook bij beter slapen als je de capsule 's avonds inneemt.

Posted by: Frank on 27 November 2021

Works good, easy delivery

Posted by: Peter on 23 November 2021

Great composition with different herbs and ingredients. Feel much more relaxed. Thank you

Posted by: Theo van L on 23 November 2021

Na lang zoeken op het internet eindelijk een uitstekend supplement gevonden om goed in mijn vel te zitten.
Create your own review