PMS | Premenstrual Formula | 60 Vegan capsules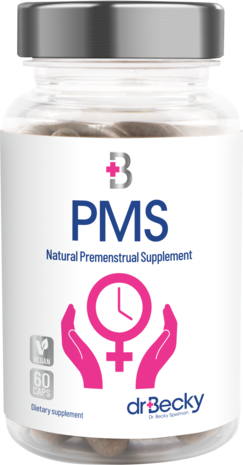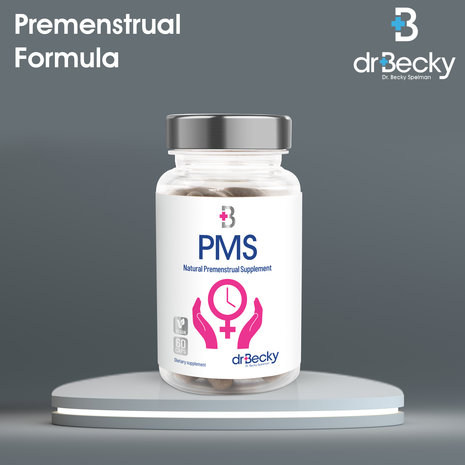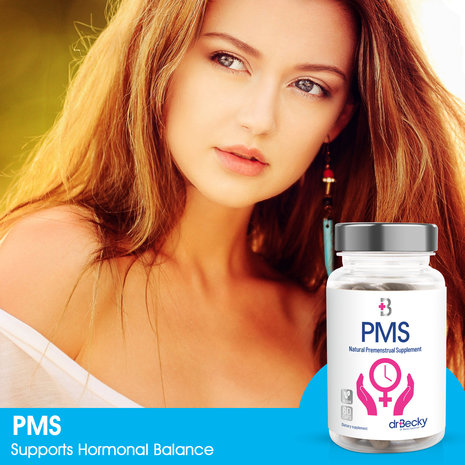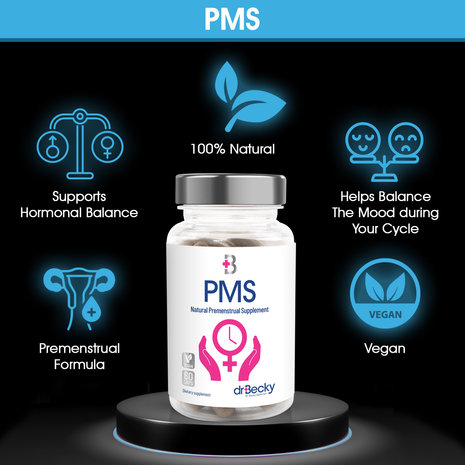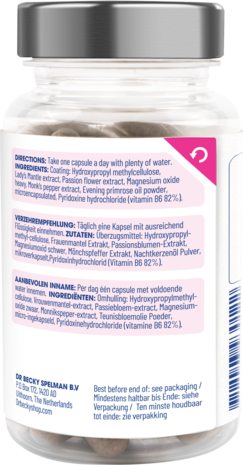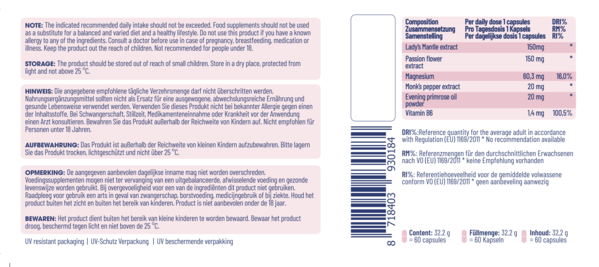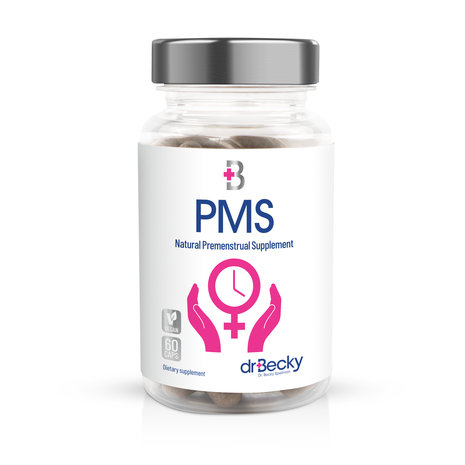 Product description
Premenstrual Formula
PMS, short for premenstrual syndrome, has a wide variety of symptoms. As the name suggests, you experience these symptoms during the week (or even fortnight) leading up to your period. Some months you may experience very pronounced symptoms, while on other occasions you have hardly any or none at all. PMS symptoms are different for every woman and every month. They can include tender, swollen breasts, feeling bloated, nausea, acne, back pain, a heavy sensation in your legs, migraine, increased appetite and binge eating and even weight gain - also due to fluid retention. The most extreme form of PMS also involves hormonal mood swings. Depression, anxiety, crying spells, a sense of lethargy, feeling panicky, emotional exhaustion and agitation are all symptoms of this type of PMS. If you suffer from this, the weeks before your period can be quite difficult and get in the way of your normal life. Fortunately, you can turn to Dr. Becky PMS, a food supplement that helps your body when you have PMS, so you feel more in balance and better able to cope.
When to use Dr. Becky PMS
PMS is caused by a drop in oestrogens in the body. The hormone oestrogen is responsible for ovulation, but if the egg isn't fertilised then less oestrogen is needed. Then the hormone progesterone takes over to prepare the womb for menstruation. So you generally experience PMS symptoms after ovulation. You take Dr. Becky PMS on the days when you suffer from PMS. Of course, you can also use it during the whole month to support your menstrual cycle. That way, the plant extracts and vitamins can come to your body's aid immediately whenever it needs them and you can build up a buffer in the course of the month. This is particularly beneficial if you have an irregular cycle and you don't know exactly when to expect PMS symptoms.
Advantages of Dr. Becky PMS
Dr. Becky PMS contains a balanced mix of herbal ingredients and vitamins that help you through the phase leading up to your period. These ingredients are carefully matched so that they all work together for maximum effect, helping to relieve your PMS symptoms as much as possible.
Helps alleviate discomfort leading up to and during menstruation.
Natural premium formula containing 6 different ingredients.
Promotes a balanced cycle.
Helps to restore hormonal balance.*
PMS tips from Dr. Becky
PMS can involve a wide variety of symptoms. So it's important to listen to your body and adapt your activities to how you're feeling. Instead of pushing your limits with a high-intensity run, you might benefit more from swimming lengths and doing yoga. Feel like crying? Get out the tissues and chocolate and put on a romantic film.
It's also a good idea to eat healthily. Precisely when you feel like binge eating. Replace unhealthy snacks with healthy alternatives. For example, a handful of unsalted cashews is better than a bag of crisps. Or treat yourself to a delicious fruit salad instead of a portion of chips. But course it's OK to give in to your cravings a little as well.
If you suffer from depression and feelings of agitation when you have PMS, then make as much time as you can for yourself to relax and unwind. Tell yourself that everything will be fine, as once your period comes most PMS problems simply disappear. Of course, to help with this you can use Dr. Becky PMS
Herbal ingredients help you cope with PMS
PMS is frustrating because you don't have much control over it. Luckily, these ingredients improve your hormone levels, so it doesn't affect you as much.
Lady's mantle extract: the name alone sounds soothing; lady's mantle helps to calm you down when you have PMS. It improves your hormone levels through the pituitary gland. It's often used as a natural painkiller and anti-stress agent.
Passion flower extract: a real anti-stress agent during PMS that even helps you sleep better. It's used as a natural painkiller for cramps and can slow down your heart rate when you're feeling anxious.
Magnesium: a very important mineral for your muscles - including the uterine muscle. Magnesium helps when you have PMS by reducing nervous tension and making your breasts less tender; it can help prevent headaches and even stop you experiencing sudden weight gain.
Monk's pepper extract: can have a harmonising effect on hormone levels and a calming effect on the body during PMS. It helps reduce breast pains and helps the body deal with various PMS symptoms.
Evening primrose oil powder: evening primrose contains gamma linolenic acid, which promotes a good hormone balance in your body. It can help with irritability, feelings of depression, breast pains and an irregular menstrual cycle.
Vitamin B6: this vitamin helps to strengthen your nervous system and combats PMS by relieving despondency and depression. It also helps with emotional exhaustion and helps reduce breast tenderness. Vitamin B6 also has a beneficial effect on acne.
Dr. Becky PMS is a food supplement to support your health. If the symptoms persist, consult your GP. Always consult your GP if you are also taking medication. Store at room temperature. Read the instructions on the packaging and the information leaflet before use.
*Health claims, made on the basis of vegetable ingredients, are currently under consideration by the EFSA.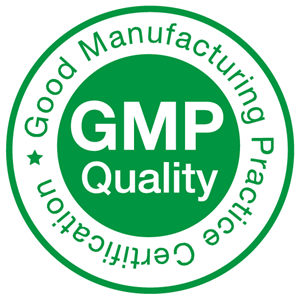 Composition 
Composition 
 
per daily dose 1 cap
DRI (%)
 
 
 
Lady's Mantle extract    
150,0
mg
 
*
Passion flower extract   
150,0
mg
 
*
Magnesium   
 
60,3
mg
 
16,00%
Monk's pepper extract     
20,0
mg
 
*
Evening primrose oil powder  
20,0
mg
 
*
Vitamin B6   
 
1,4
mg
 
100,50%
DRI (%)Reference quantity for the average adult in accordance with Regulation (EU) 1169/2011 * No recommendation available.
Product specifications
Article number

232000

SKU

PMS_005

EAN

8718403930184

Contents

60 vegan caps

Ingredients

Magnesium oxide, Coating: Hydroxypropyl methylcellulose, Pyridoxine hydrochloride, Monk's pepper extract, Thiamine hydrochloride, Cholecalciferol, Riboflavin.

Information

Food supplements must not replace a varied and balanced diet and a healthy lifestyle. Not suitable under 18 years. Read the instructions on the package before use.

Dosage Advice

Take one capsule a day with plenty of water.

Storage advice

The product should be stored out of reach of small children. Store in a dry place, protected from light and not above 25 °C.

Warning

Consult with an expert in case of illness, medication, pregnancy and breastfeeding before using supplements.

Suitable for vegans

Yes

Packaging

UV resistant packaging

Claims

Health claims, made on the basis of vegetable ingredients, are currently under consideration by the EFSA.
Show more
Show less
Reviews
Posted by: N.P on 10 January 2022

In my opinion it works well. Get through the period well. Composition looks good.

Posted by: Y.K on 29 November 2021

I started taking this on recommendation to reduce menstrual symptoms. I have to say that since I started taking it I have had remarkably less cramps and abdominal pain.

Posted by: C.P on 29 November 2021

Geeft me een beter gevoel. Goede mix van kruiden geven me ook weer de nodige energie.

Posted by: Kelly. J on 23 November 2021

Perfect voor bij je maandelijkse periode. Geeft me een goed gevoel. Combinatie van ingrediënten is echt uniek :D

Posted by: B.TG on 23 November 2021

So far! Am very Grateful to have giving this PMS supplement a try! It has helped my a lot! Thanks.
Create your own review