Brain Booster | Concentration & Performance | Nootropics | 60 Vegan capsules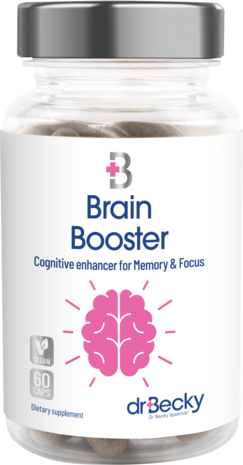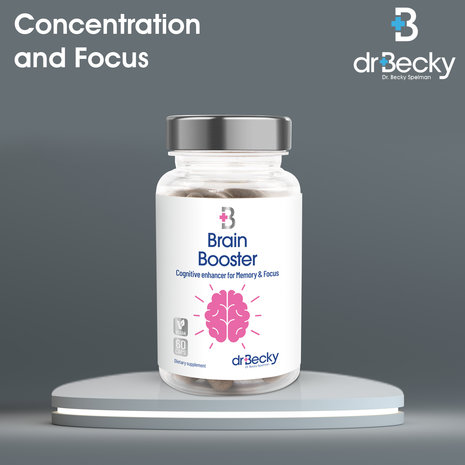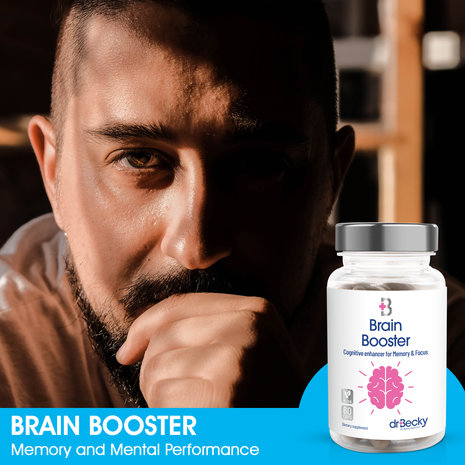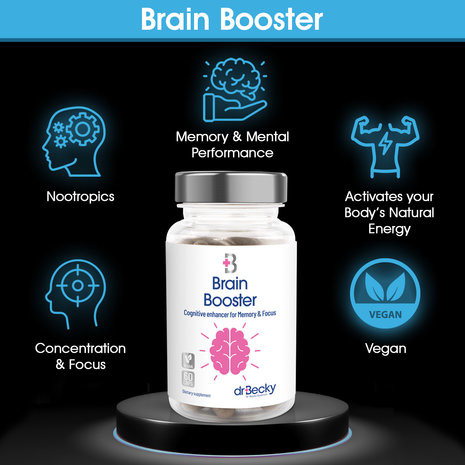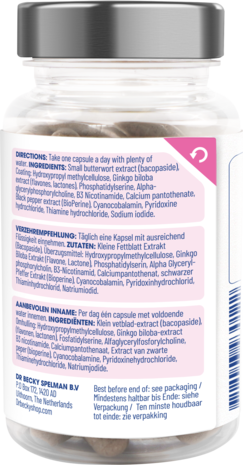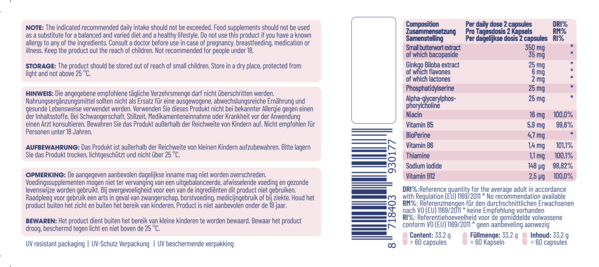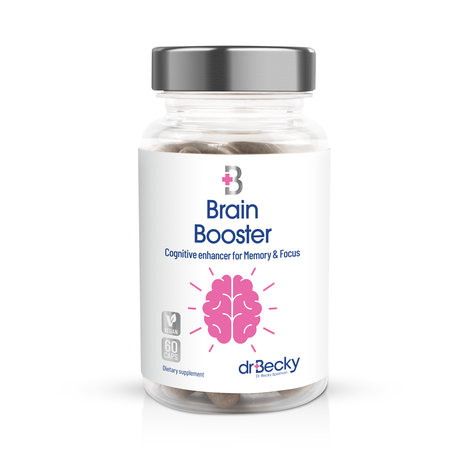 Product description
Brain Booster
School and work place a lot of demands on your brain. You need to focus on the task at hand, but distraction is an ever-present danger. It's tempting to leave what you're doing to play with the dog or cat for a minute, quickly check your social media or even just stare out of the window. Concentration requires your attention and perseverance. It also places heavy demands on your memory and your brain. If your brain needs a boost to help with this, luckily Dr. Becky Brain Booster is there to lend a helping hand.
When to use Dr. Becky Brain Booster
Use Dr. Becky Brain Booster to promote good brain function. You use your brain all day long, not just for studying or preparing a presentation. You also use your brain when making decisions in traffic or about what to eat. Our brains are fed information to process all day long. When your head is full of all kinds of information, this makes it more difficult to focus on traffic or your homework. Dr. Becky Brain Booster contains all kinds of ingredients that help you to focus better. For example, during exam periods, when you need to complete an important task for work or if you're just easily distracted by all kinds of minor issues.
Advantages of Dr. Becky Brain Booster
Dr. Becky Brain Booster doesn't contain caffeine, but its unique composition means it keeps you alert. You can use it for a short period, for example to get through your exams, or use it every day to maintain your focus on your work or lessons. This supplement also contains ingredients that can have a calming effect on your nervous system, which will certainly be useful during stressful periods such as exam weeks.Favorable influence on cognitive functions such as memory, concentration and learning ability.
Brain Booster
Supports the proper functioning of the nervous system.
Helps you to focus and perform better.
Contains ginkgo biloba, which aids memory and concentration and promotes good circulation.
Restores mental and physical balance.
Activates your body's natural energy.
Enhances mental agility and helps you to think more clearly.
Promotes red blood cell production.
Helps you to stay alert without the use of caffeine.
Balanced formula containing 11 different ingredients.
Concentration tips from Dr. Becky
Concentration is something you can learn. You do this in small steps, as creating a longer attention span is something you need to build up gradually. If you know that you're going to be attending a three-hour lecture and your attention span is only half an hour, then you can train yourself to extend your attention span. Try to train yourself to keep your attention focused on something a little longer every time. For example, by watching a long documentary and viewing it for a little longer each time without your attention lapsing. This will also help you to focus on work and homework. An important part of learning to concentrate is ensuring that you don't get distracted easily. If you know that you're easily distracted by your mobile phone, then turn it off for a while or put it out of reach. Don't open any social media on your computer - instead, use it as a reward when you've completed a task. Let other people know that you won't be available for a while as you're working or studying. They're sure to understand and avoid disturbing you until you show your face again.
Another thing that can help is to give yourself little rewards when you're working on a big project or have a lot of studying to do. If you promise yourself something in the future as a reward, this will help you to focus much better on what you need to get finished. Setting deadlines can also help you to concentrate better. By putting yourself under a bit of pressure to get something finished by a particular time, you force yourself to focus really well on the task at hand. Make sure you take enough breaks when you're working or studying. You can't keep your attention tightly focused all the time. In between tasks, it's important that you clear your mind, so that you can start the next task feeling refreshed and give it your full concentration. This gives your brain a chance to process and store everything you've learned, too - otherwise it will all get mixed up and your time will have been wasted. It's best to get up and get away from the place where you're working or studying.
Go outside and get some fresh air. Go to the kitchen and make yourself some lunch or get something to drink. Eat or drink this somewhere else, not sitting at your computer. Set a timer for the end of your break, so you get back to work in good time. Another way of maintaining concentration is keeping close track of deadlines and subtasks. Cross off whatever you've completed and then go on with the next thing. This helps you to keep concentrating on small tasks and keep working more calmly. And don't let yourself get worked up. If you can't seem to accomplish something today and you've got time left over, then try setting it aside and going to do something completely different. You're bound to be able to focus on it at a later stage.
Ingredients that improve concentration
Dr. Becky Brain Booster contains a combination of different ingredients that work together to help improve your memory and concentration.

Brahmi extract: the full name of this tiny creeping herb is Bacopa monnieri. The plant can be used to improve transmission between brain cells. As a result, it can help to improve concentration. It can also have a beneficial effect on sleep quality and the reduction of stress.
Ginkgo Biloba extract: helps improve blood circulation throughout the body, the organs and therefore the brain as well. It also benefits your memory and your concentration.
Phosphatidylserine: this substance helps to streamline the cognitive processes in your brain. This means it improves your memory and it can also help to combat despondent thoughts.
Alpha-glycerylphosphorylcholine: this substance occurs naturally in the brain and in red meat and can help to improve the neural connections between brain cells, making it easier for you to remember and store information in your brain.
BioPerine®: a patented black pepper extract that helps to improve the body's absorption of nutrients.
Sodium iodide (iodine): this iodide salt is formed from sodium and can help with passing on information in the brain.
B vitamins: Dr. Becky Brain Booster contains various B vitamins, in particular vitamin B1, which is important for energy levels. It also contributes to the proper functioning of the nervous system and the heart. Vitamin B3 (nicotinamide) and vitamin B5 help to maintain energy levels, so that you still feel good even after a day spent studying or working. To help you cope better with tension, vitamin B6 and vitamin B12 have been added. These vitamins are both known for their role in maintaining a healthy nervous system. Vitamin B12 also helps with the production of red blood cells, which are important for getting enough oxygen to the brain. Vitamin B6 and vitamin B12 also work together to protect your heart and blood vessels.

Dr. Becky Brain Booster is a food supplement to support your health. If problems persist, consult your GP. Always consult your GP if you are also taking medication. Store at room temperature. Read the instructions on the packaging and the information leaflet before use.
*Health claims, made on the basis of vegetable ingredients, are currently under consideration by the EFSA.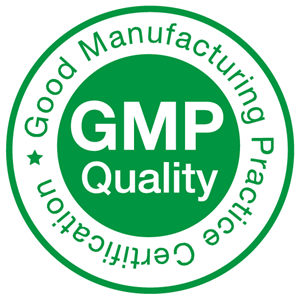 Composition 
Composition 
 
per daily dose 1 cap
DRI (%)
 
 
 
Small butterwort extract 
350,0
mg
 
*
of which bacopaside 
 
35,0
mg
 
*
Ginkgo Biloba extract 
 
25,0
mg
 
*
of which flavones 
 
6,0
mg
 
*
of which lactones 
 
2,0
mg
 
*
Phosphatidylserine 
 
25,0
mg
 
*
Alpha-glycerylphosphorylcholine   
25,0
mg
 
*
Niacin
 
16,0
mg
NE
100,0%
Vitamin B5 
 
5,9
mg
 
99,6%
BioPerine 
 
4,7
mg
 
*
Vitamin B6
 
1,4
mg
 
101,1%
Thiamine 
 
1,1
mg
 
100,1%
Sodium iodide          
 
148,0
µg
 
98,82%
Vitamin B12
 
2,5
µg
 
100,0%
DRI (%)Reference quantity for the average adult in accordance with Regulation (EU) 1169/2011 * No recommendation available.
Product specifications
Article number

211512

SKU

BB_888

EAN

8718403930177

Contents

60 vegan caps

Ingredients

Small butterwort extract (bacopaside), Coating: Hydroxypropyl methylcellulose, Ginkgo biloba extract (flavones, lactones), Phosphatidylserine, Alpha-glycerylphosphorylcholine, B3 Nicotinamide.

Ingredients

Calcium pantothenate, Black pepper extract (BioPerine), Cyanocobalamin, Pyridoxine hydrochloride, Thiamine hydrochloride, Sodium iodide.

Information

Food supplements must not replace a varied and balanced diet and a healthy lifestyle. Not suitable under 18 years. Read the instructions on the package before use.

Dosage Advice

Take one capsule a day with plenty of water.

Storage advice

The product should be stored out of reach of small children. Store in a dry place, protected from light and not above 25 °C.

Warning

Consult with an expert in case of illness, medication, pregnancy and breastfeeding before using supplements.

Suitable for vegans

Yes

Packaging

UV resistant packaging

Claims

Health claims, made on the basis of vegetable ingredients, are currently under consideration by the EFSA.
Show more
Show less
Reviews
Posted by: Tom. B on 8 July 2022

I've taken Brain Booster in preparation for a challenging exam as part of a degree. It definitely has helped me enter that study flow faster and achieve good results.

Posted by: G. B on 8 July 2022

Ik heb gemerkt dat Brain Booster een zeer goede vervanging is voor mijn doeleinden, het stelt me in staat om alledaagse studietaken efficiënt uit te voeren en helpt me om beter te concentreren.

Posted by: Martin. P on 31 March 2022

Goed product en samenstelling! 60 capsules in het potje.

Posted by: Jim R on 10 January 2022

Zeer content met Brain booster. Doet wat het moet doen.

Posted by: G. H on 10 January 2022

Good quality spices. Thanks for the quick delivery. Product works very well for me.

Posted by: M. Huisman on 2 December 2021

Ik heb meerdere concentratie producten geprobeerd. Brain booster doet wat het beloofd en de scherpe focus is goed waarneembaar. Bedankt.

Posted by: A.v T on 2 December 2021

Feeling very much energized, works really great for me!

Posted by: J.P on 27 November 2021

I really like the ingredients and the way Brain Booster from Dr Becky makes me feel, I will highly recommend it.

Posted by: Sam on 27 November 2021

Ik gebruik dit product geregeld tijden mijn studie. Ik kan mezelf dan beter concentreren en ben al tijden niet meer zo productief.

Posted by: Joanne on 23 November 2021

I highly recommend Brain Booster. It's a great product, capsules really easy to take. Really saw improvements in my focus. Happy to have bought this product.

Posted by: Hans on 23 November 2021

Erg tevreden met dit product. Werking is beter dan verwacht.

Posted by: Evi on 13 October 2021

Gebruik ik meerdere periodes met succes waar concentratie en focus gewenst is.
Create your own review