Menopause | Transition Balance | 60 Vegan capsules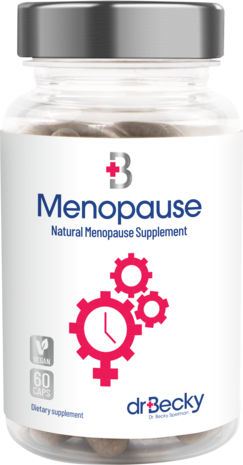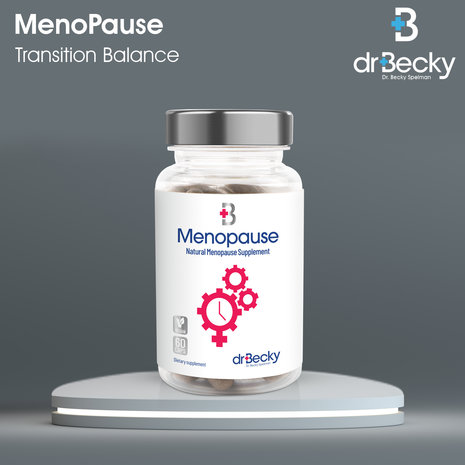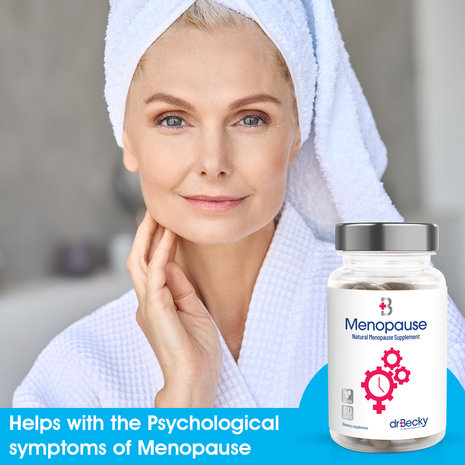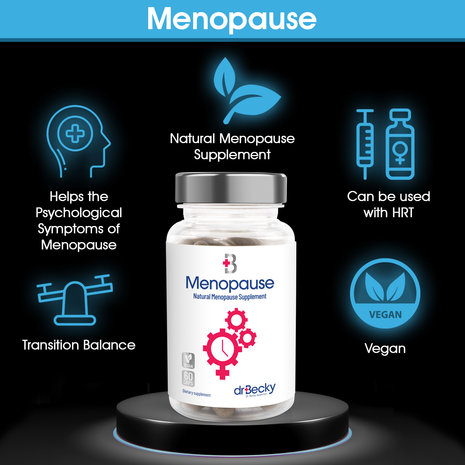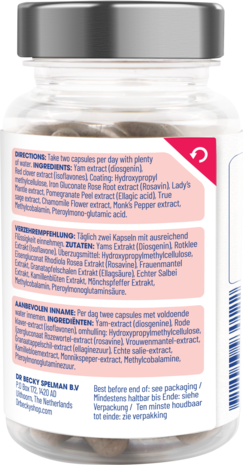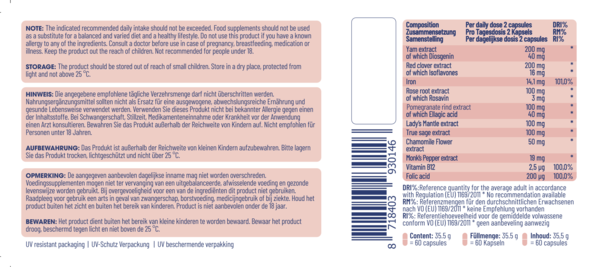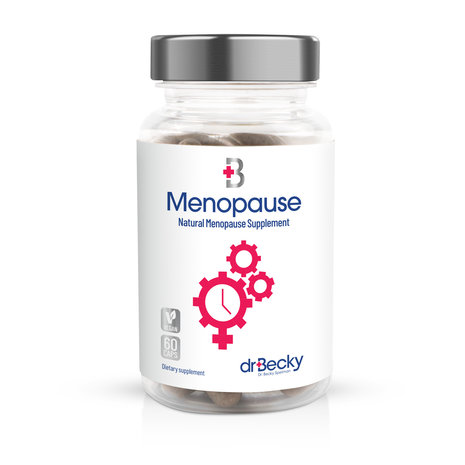 Product description
Dr. Becky's Menopause
Menopause can be a very difficult transition period for many women, and it can definitely catch some people off guard. Caused by a decrease in the production of reproductive hormones, usually beginning between ages 45 and 55, the early symptoms of menopause can include irregular periods, hot flashes, night sweats, and issues sleeping. Dr Becky has developed a Menopause remedy to ease these symptoms and start bringing more tranquility in your life.
When to use Dr. Becky's Menopause
If you're experiencing symptoms of menopause, Dr Becky's Menopause supplement can ease the distress and discomfort associated with this transition in your life. The supplement contains various herbal ingredients which have been shown to support menopausal symptoms like night sweats, daytime hot flushes, irritability and the typical feelings of despondency.
Benefits of Dr. Becky's Menopause
Many supplements designed to support menopause focus on either the physical or psychological symptoms. Dr. Becky's Menopause provides complete support for all sides of menopause in a single tablet. 
Unique formula containing 11 natural ingredients.
Helps with menopausal symptoms* such as hot flashes, irritability and mood swings.
Promotes the production of white and red blood cells.*
Formula based on scientific evidence.
Menopause tips from Dr. Becky
Menopause marks the start of a new phase of the female body. As such, Dr Becky has several tips to make this process a little bit easier:
Take good care of your skin and cleanse daily to prevent acne.
Keep engaging in exercise, such as sports or yoga, and eat a healthy diet.
Drink lots of water and reduce your alcohol and caffeine intake.

 

Be kind to yourself and process any new feelings which may arise.
Our Ingredients
The unique composition of Dr. Becky's Menopause focuses on soothing your body and your mind using the following ingredients:
Wild yam extract: the root of this American plant is often used to ease any agitation and hot flashes.
Red clover extract: the flowers of the red clover plant contain isoflavones, which produce a very similar chemical to the sex hormone, oestrogen.

 

Ferrous gluconate: an iron supplement, which can help to bring back any lost feelings of energy.

 

Rhodiola rosea extract: a soothing herb that can also help to promote good blood circulation.

 

Lady's mantle extract: this extract helps to boost your hormone levels through the pituitary gland. It's often used as a natural painkiller and anti-stress agent, and can help to regulate the decrease in oestrogen during menopause.
Pomegranate peel extract: just like the red clover plant, pomegranate contains substances similar to oestrogen, and supports a healthy hormone balance. It also contains vital ingredients for a healthy heart.

 

Common sage extract: sage helps with night sweats and hot flashes, and can even help with memory functioning.
Camomile flower extract: camomile has many soothing properties, which can be helpful in the increased anxiety or agitation commonly seen in the menopausal period.
Monk's pepper extract: this extract can have a harmonising effect on hormone levels and a calming effect on the body during menopause.
Vitamin B12: essential to the production of red blood cells, B12 plays an important role in maintaining energy levels, memory and concentration.
Folic acid: responsible for the production of white and red blood cells, making it important for maintaining energy levels.
Dr. Becky Menopause is a food supplement to support your health. If the symptoms persist, consult your GP. Always consult your GP if you are also taking medication. Store at room temperature. Read the instructions on the packaging and the information leaflet before use.
*Health claims, made on the basis of vegetable ingredients, are currently under consideration by the EFSA.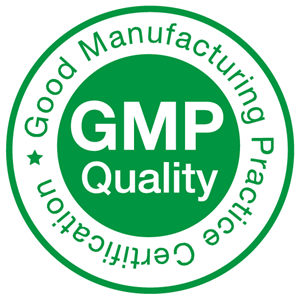 Composition 
Composition 
 
per daily dose 2 caps
  DRI (%)
 
 
 
Yam extract 
 
200,0
mg
 
*
of which Diosgenin 
 
40,0
mg
 
*
Red clover extract 
 
200,0
mg
 
*
of which Isoflavones 
 
16,0
mg
 
*
Iron 
 
14,1
mg
 
101,0%
Rose root extract 
 
100,0
mg
 
*
of which Rosavin
 
3,0
mg
 
*
Pomegranate rind extract 
100,0
mg
 
*
of which Ellagic acid
 
40,0
mg
 
*
Lady's Mantle extract
 
100,0
mg
 
*
True sage extract
 
100,0
mg
 
*
Chamomile Flower extract       
50,0
mg
 
*
Monk's Pepper extract              
19,00
mg
 
*
Vitamin B12 
 
2,5
µg
 
100,0%
Folic acid 
 
200,0
µg
 
100,0%
DRI (%)Reference quantity for the average adult in accordance with Regulation (EU) 1169/2011 * No recommendation available.
Product specifications
Article number

992512

SKU

MP_442

EAN

8718403930146

Contents

60 vegan caps

Ingredients

Yam extract (diosgenin), red clover extract (isoflavones), coating: hydroxypropyl methylcellulose, iron gluconate rose root extract (rosavin), lady's mantle extract.

Ingredients

Pomegranate peel extract (ellagic acid), true sage extract, chamomile flower extract, monk's pepper extract, methylcobalamin, pteroylmonoglutamic acid.

Information

Food supplements must not replace a varied and balanced diet and a healthy lifestyle. Not suitable under 18 years. Read the instructions on the package before use.

Dosage Advice

Take two capsules per day with plenty of water.

Storage advice

The product should be stored out of reach of small children. Store in a dry place, protected from light and not above 25 °C.

Warning

Consult with an expert in case of illness, medication, pregnancy and breastfeeding before using supplements.

Suitable for vegans

Yes

Packaging

UV resistant packaging

Claims

Health claims, made on the basis of vegetable ingredients, are currently under consideration by the EFSA.
Show more
Show less
Reviews
Posted by: Nienke on 8 March 2023

Goede resultaten na een week gebruik

Posted by: N. P on 24 October 2022

Finding my mood changes and bloating were much better this month.

Posted by: Sam on 25 September 2022

MenoPause is voor mij een ideaal middel voor de overgang.

Posted by: R.H on 10 January 2022

Helps very well with menopausal symptoms. Happy 47+ ;-)

Posted by: Rachel on 29 November 2021

Menopause van Dr Becky vult mijn tekorten aan tijdens de overgang , goede aanvulling om veel minder klachten te hebben.

Posted by: Beth on 29 November 2021

I've been using it for a while now and I'm very satisfied

Posted by: P.H on 23 November 2021

This Dr Becky Menopause product really helps over my night sweats and moods.

Posted by: Claudia on 23 November 2021

Wauw!. Na diverse supplementen geprobeerd te hebben zonder echt resultaat heb ik eindelijk dit product van Dr Becky gevonden dat na een paar dagen al helpt. Ik ben van mijn opvliegers af en irritaties.
Create your own review